FREE RENAME CARD – PUBG MOBILE
Open the app to the home screen (main menu).
Select Inventory from the menu at the bottom.
Tap the crate icon on the right-hand side.
Tap the Rename Card (if you have any) and tap Use.
Enter your new name and tap OK. You can only change your name once per day.
Check Your Character ID From Lobby
You can check your current Character ID at the upper right hand corner of the lobby screen.
See Name ID In Basic Info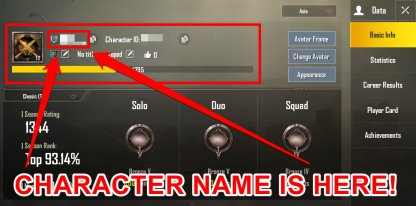 You can also see your Character ID when clicking on the badge on the lobby screen and accessing your Data, on the Basic Info tab.
Rename Card Can Be Used Once Per Day
Players are only allowed to change their character name once per day so make sure you don't waste your Rename Cards and save them up!
How To Get ID Card
There are two main ways for players to accumulate and receive Rename Cards in PUBG Mobile – through shop purchases and through rewards from progress missions
Purchase Through Shop
Go into the PUBG Mobile shop and click the "Others" tab. You can find the Rename Card purchase option there!
Spend 180 UC To Purchase
The cost of one Rename Card is 180 UC. You can earn UC by buying them from the Shop or from the Elite Royale Battle Pass.